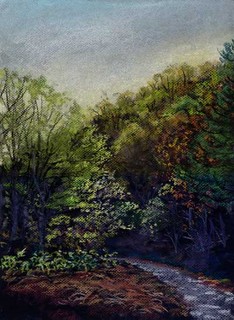 Spring has covered all of Hida and all the trees are bursting into leaf.
On my way back from sketching at Ikegahara bog, while I was tired and rather wanted to go home soon, I found myself stopping my car to make another piece. I had only this chance to see the very scene that epitomized this season. Baby leaves were shining colourfully like neon lamps in the backlight of the late afternoon sun. I decided to try to depict that which people often call pastel colours literally with pastels.
I had barely finished it when the sun set.